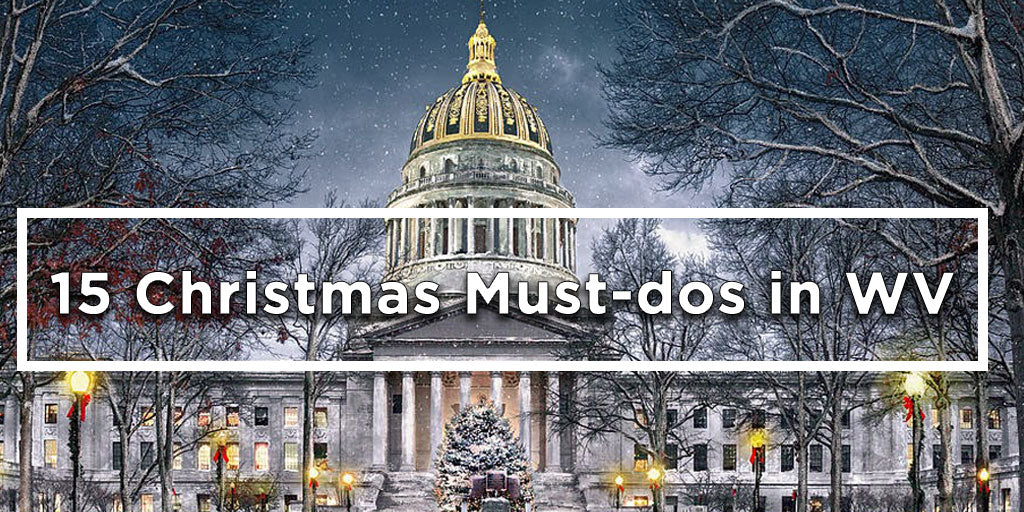 15 Must-dos on Your West Virginia Holiday Wishlist
When you envision a beautiful winter wonderland, odds are that you are thinking of a snow-covered backdrop from somewhere in West Virginia. From our ski resorts to our scenic railroads to unspoiled, undiscovered paths, there is something magical about the holidays in West Virginia. Here are 15 of our favorite ways to celebrate the season in our state.
Oglebay Winter Festival of Lights
When you think of holiday light shows, this is the one that should come to mind.  Beginning Nov. 1 and running through January 1, this display features 89 lighted attractions with more than one million lights. Covering more than 300 acres over a six-mile drive, it attracts more than a million visitors (and thousands of tour buses!) each year. Add in some awesome overnight lodging packages, elegant dining, shopping, and a chance to meet Santa's reindeer and you have an event that will bring out the child in everyone.
Speaking of appealing to the kid in us all, why not schedule a ride on the Polar Express? The Durbin & Greenbrier Valley Railroad in Elkins brings this officially licensed train ride to West Virginia in November and December. Based on the holiday film from Warner Bros., passengers relive the magic of the story as this nighttime train whisks them away for an unforgettable ride. Your conductor will punch tickets as dancing chefs serve hot chocolate, followed by a reading of this classic book. At the North Pole, Santa will board the train and greet the children and true believers will receive a silver sleigh bell.
Looking for a shorter train ride designed for little ones? Try The Elf Limited in Cass. During this 60-minute round trip, passengers meet Jinx the Elf and learn how Santa selects the elves that serve in his workshop. Elfcapades include rigorous tests like packaging, toy combobulation, snowballing, mischief making, reindeer grooming, and more. And of course, there's a visit from Santa on this voyage. This trip is available Fridays, Saturdays and Sundays from November 10 – December 10.
Feast of the Seven Fishes - Fairmont, WV
If your idea of a holiday trip is more of walking through an old fashioned street festival, the town of Fairmont has you covered on December 9. From 11:00 a.m. to 5:00 p.m., the town hosts a street fair, live music, artisan market and of course, authentic Italian cuisine on the corner of Monroe and Adams streets. Indoor seating will be available in the old Firehouse building on Monroe Street. The evening ends with a Christmas Parade and Mass at Saint Peter the Fisherman Catholic Church.
Olde Tyme Christmas - Harpers Ferry, WV
Speaking of an old fashioned holiday, experience the best of Christmas Past in Historic Harpers Ferry. From December 1-10 in Lower Town, this 1860s village comes alive with historic decorations, live entertainment, extended shopping hours, and activities for kids. (Even if you miss the festival events, you can still experience the town decked in green garlands, red bows, and twinkling lights through the first week in January.
Spirit of Christmas in the Mountains at Fort New Salem
To get the real spirit of Christmas in the mountains, head to Fort New Salem the weekends of November 26 & 27 and December 3 & 4 from 2 to 6 p.m. Located 12 miles west of Clarksburg, this annual tradition features demonstrations like blacksmithing, tinsmithing, storytelling, fireplace cooking, the music of local choirs and plenty of sweet treats and crafts for sale. ($5 admission fee; children 10 and under are free.  
There's no shortage of historic towns in West Virginia, and the charming town of Shepherdstown is aptly named for the season. Weekends between Thanksgiving and Christmas, visitors can sing along with Victorian carolers, see a live nativity, tour the town in horse-drawn carriages and much more. Visit their website for a detailed list of each day's events and any associated fees.
Christmas at Greenbrier Resort
Greenbrier is magical at any time of the year, but the resort truly sparkles in December, with thousands of lights, decorations and holiday entertainment every Saturday. From a Christmas Eve Gingerbread Ball for the kids, holiday wine tastings for the adults, and activities each day, there's something for everyone on your list.
City of South Charleston Christmas Parade
If Santa arriving by train isn't quite your speed, you might want to amp things up a bit at this charming small town parade that features Santa arriving – by helicopter in the middle of the Oakes Field Football Stadium. Come out and enjoy this parade – and the excitement - on December 9. (There's nothing like combining some of our state's favorite pastimes!)  
Moscow Ballet's "Great Russian Nutcracker"
Looking for a more cultural activity (although personally, we always think football is cultural!)? Then head to this lavish production of a classic ballet as it returns to WVU's Creative Arts Center on its 25th Anniversary Tour. This show is always a sell-out, so get your tickets early.
Huntington is home to Heritage Farm, a charming historical village dedicated to preserving Appalachian history. On two weekends (December 1-2 and 8-9) visitors can see a live nativity scene, visit with Santa and see the village decked with holiday lights.
Joyful Night
Check out the annual Joyful Night celebration in Charleston. Highlights typically include carols sung by local bands and choirs as folks gather for the lighting of the state's Christmas tree.
Nativities from Around the World
For a look at Christmas traditions from around the world, stop by this free, self-guided, nondenominational exhibit of nativity scenes from over 100 nations at The Church of Jesus Christ of Latter-day Saints in South Charleston. Optional events include a Walk Through Bethlehem and a Tabernacle Choir Christmas Devotional.  Open from December 1- 9.
St. Albans Christmas Historic Homes Tour
For a peek inside some gorgeous historic homes, churches, the C&O R.R. Depot, and even a wooden caboose, stop by St. Albans on December 9 for this annual tour of homes. Shuttles are provided (or you can drive to each house) and refreshments provided at each home.
"I Will Remember" B.E. Taylor Christmas
This December 22, the Capitol Theatre in Wheeling will host a very special tribute to the man who brought a Christmas concert to the state each year. B.E. Taylor passed away last August from a brain tumor, leaving a silent night last year. Thanks to high demand, his musical legacy as the Voice of Christmas in West Virginia will live on.
These are just a few of the many holiday events across our state. Choose your favorite and celebrate the wonder that makes our state so special during this magical time of the year.